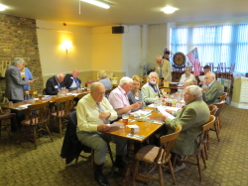 Wednesday 13 May 2015 was another business meeting where we had a chance to find out the progress being made on our projects. There was good news with Arnold back home once again! We even had an open invitation to the Kingsbury and Kenton Garden Party!
With our Treasurer planning to be away for our June business meeting, there was a presentation on next year's dues. The good news is that they are the same as this year! The split has been adjusted slightly for those paying 6 monthly.
Ritu spoke on Membership Services and has another meeting on Monday 18 May 2015. John spoke about Kids Out on 10 June 2015,  and included our Blood Pressure Day, our School Dictionaries Project and finished with an appeal, which was agreed, from the Harrow Food Bank for a contribution towards the operating costs.
Doug updated us on our statistics and on the milk bottle top project for HEMS air ambulance service. Stan reported that the Tower Bridge visit is off but Bletchley Park is going ahead.
We are still looking for a counsellor for a scholar, but Rotary is making good progress toward Polio Eradication. The District Minibus Project for the Revival Centre is coming together now, and the Minibus Send Off will be at York Gate on 27 June 2015 at 10.30am. There was a reminder for the District Sports Dinner and we were done for another month!