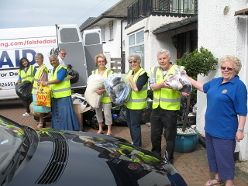 Winter Clothes and Toiletries are off – to the people of Chernihiv in the North Ukraine.
Members of the Rotary Club of Northwick Park gathered at the home of a member where they have been collecting unwanted clothing, toiletries, bedding, and a variety of other items over the past couple of months. Their aim was to fill a van from Felsted Aid for Deprived Children with items that are desperately needed by the people of the Ukraine for the forthcoming winter.
Club Member Helen had made her garage available to assemble the load, and ten Club members arrived at her garage on Sunday 7 September 2o14 to help load the vehicle. The load will go to the Ukraine towards the end of September and be distributed through the Revival Centre.
Past District Governor Dick, a member of the Club said, "It is really surprising how quickly this load has been assembled, and how easy it is to help those in need through our friends at Felsted Aid." The Club has already been chosen for a return visit from the Director of the Revival Centre on 8 October 2014, when they will hear the latest news on the Ukraine and the work of the Revival Centre, which specialises in the treatment of second generation children suffering genetic and neurological problems resulting from the nuclear disaster at Chernobyl in 1986.