Two members of the Club have been busy as judges in the Rotary Young Chef Competition taking place in North West London. Students from Alperton Community School (left) and Nower Hill School (right) have been hard at work perfecting their dishes before the heats started.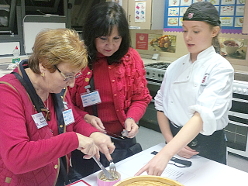 The winner in North West London will take part in a London-wide Competition in February 2015. The winner of that competition enters the South East Regional Competition, and has a chance to move on to the National Final. Details of these finals will appear on the Rotary in London Website (www.rotaryinlondon.org).
The competition is not just about the finished dish. Entrants are required to have costings for their menu, have prepared a cooking plan, and to demonstrate skills and hygiene awareness whilst preparing their dishes.