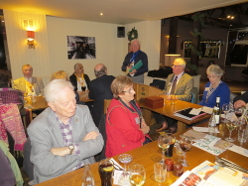 On Wednesday 10 December 2014, we were moved out of our normal venue again, but it was not so important, as we had a Business Meeting at which we discuss progress and projects.
We had announcements on the details of the Christmas Meal next week, on visits that had been made to other Clubs and to Rotary Events, on the forthcoming quizzes (Harrow 7 Feb, Northwick Park 14 Feb) and a walk with Pinner on 4 January 2015.
We had reports on the accounts, and reports on the fundraising results so far. The Ten-Pin Bowling competition takes place on 25 January 2015, and the club will be entering two teams (JC, AB, MB, BK; SP, DN, DT/RK, PW).
We have now sent a full van of clothing to our friends in the Ukraine, in Chernihiv, and we had the results of the Bagel Brunch on 6 November 2014, which raised funds for the Rotary Foundation. We also heard that the Rotary Garden in Northwick Park Hospital has now been updated for a modest cost.
With updates on our Youth Competitions, on our Youth Exchange candidates and a decision to hold the London Youth Exchange Camp again, it was a busy evening.