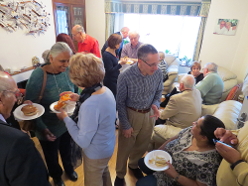 On Sunday 16 November, members of the Club supported by their partners, and members of the Rotary Clubs of Barkingside, Edgware & Stanmore, Golders Green, Mill Hill and Redbridge (in alphabetical order) as well as others, gathered at Lucille and Sydney's home for the annual Bagel Brunch.
The fare was much the same as usual, with the emphasis on smoked salmon bagels, omlettes and crepes, with orange juice, tea, coffee and pastries. As you can see from the photo, everyone was deeply involved in conversation as well as enjoying the food and drink.
A raffle was held at the end of the morning with the proceeds from the food and the raffle going towards The Rotary Foundation, the charity fund which supports the work of Rotarians around the world.
Our thanks go to Sydney, Lucille, their family  and all the helpers that made the event so enjoyable.