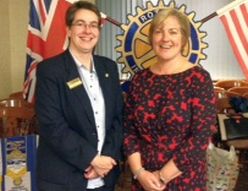 On Wednesday, 18th September, the Club was pleased to welcome Sarah Ball, Rotary Club of Ealing & District Visioning Officer, who explained what the Rotary Visioning initiative was in a most lucid and clear presentation.
 The idea had started in the USA & had been used with great success in that country and also in Australia in New Zealand. However, it had been modified by RIBI & District 1130 to suit the needs of Britain & Ireland in general & London in particular.
 It was explained that the programme objective was for each club to set the stage for its own progress & development, capture members' ideas & develop a shared vision. This way it was hoped that the club would work more effectively by the members all pulling in the same direction. Sarah acknowledged that all clubs were different and stated that this was not an attempt to force the idea that one size fits all and that clubs would retain their individual character. She also stated that she thought that Northwick Park was one of the leading clubs in District 1130!
 If the Club decided it wished to be part of the process, Sarah explained that we would have to convene a gathering of 15 to 30 members, covering all aspects of the diversity of the club, who would spend 3 to 4 hours analyzing what we wanted to do & where we wanted to be in 5 years. This would be facilitated by the District Visioning team.
 Needless to say, the presentation stimulated a lot of questions and much comment. President Ros said that she would try to set aside time at the next business meeting to discuss whether we wanted to commit to be part of this programme.