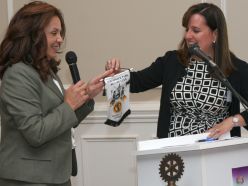 Ms Parker
I am so glad that I "stumbled" upon your club's meeting while I was in London last month. I really enjoyed meeting all of you and appreciate the warm welcome I received. My fellow members appreciated my story as I presented your club's banner to our President, Jeanie Crotts.
She also gave me one of our club's banners for your club, which I will be sending out this week.
Again many thanks to you and the Northwick Park Rotary Club!
Shelly A. Lundberg