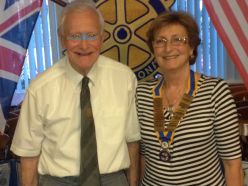 Our own Founder Member, Harold Kirby, was our excellent speaker at our meeting on Wednesday 15 August.
Harold is an avid writer of amusing poetry and he treated the club to a wealth of examples of his very entertaining work.
Harold gave us ditties on a variety of subjects including: The Shed, Wheelie Bins, The Slug, The Church Service, The Sat Nav, Memories, Lost, Mislaid, The Object, The Invention, The Cream Tea.
The Club Members were most keen that Harold should get his very amusing work published so that we could all be able to read and reread them at our leisure.
A thoroughly pleasant evening was enjoyed by everyone.