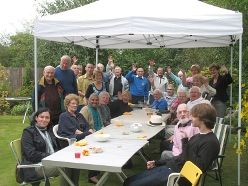 On Sunday 2 September 2012, a good number of Club Members and their better
halves assembled at President Sandy's home for an "At Home Lunch". The
weather on the day was dry but not very warm as can be seen from all the
coats being worn! The President's hospitality, however, made up for the
sun's failure to appear and the fellowship was much appreciated by all the
club members that attended the event. We also had a visit from a Past
District Governor (Robert) and from a future Rotary International in Great
Britain and Ireland President (Peter). The lunch finally came to an end with
teas and coffees, but the conversation continued. A really good afternoon
that was enjoyed by those attending, and will be envied by those who were
absent owing to their volunteering duties at the London 2012 Paralympic
Games.