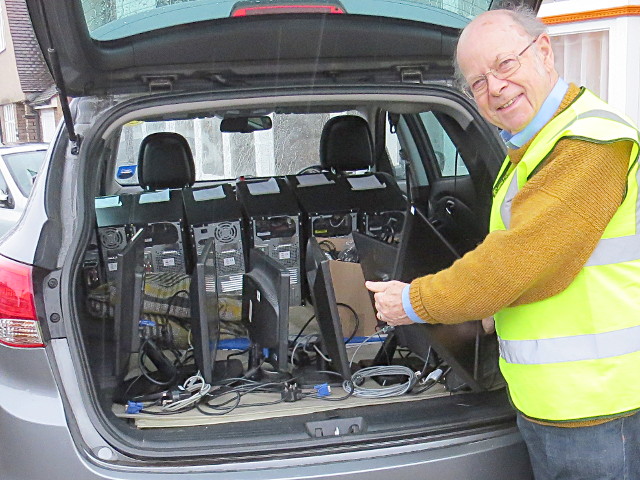 After a week of wet weather not helping with our Charity Collections in St Ann's Road, the sun briefly shone on our Club's efforts with a batch of computers being donated to Wiseworks, Harrow.
With the closure of a local firm, the computers were offered to the Rotary Club of Northwick Park, provided they could be cleared of all data to professional standards.  The computers were cleared down, and a query was sent to the Mayor of Harrow's office.  They made the connection with Wiseworks Harrow who were only too keen to receive them and upgrade their IT Skills suite.
At this time of year with Santa having so many presents to deliver, it was a real pleasure for our 'Santa' to be able to bring seasonal joy to Wiseworks, Harrow.   Wiseworks, Harrow is a local mental health pre-vocational work centre provided by the Disability Day Services of Harrow Council for more than 25 years.  It offers a wide variety of commercial services including printing and design, a photography studio, a plant centre, organic vegetables and more including room.  See this webpage for more details of Wiseworks, Harrow.