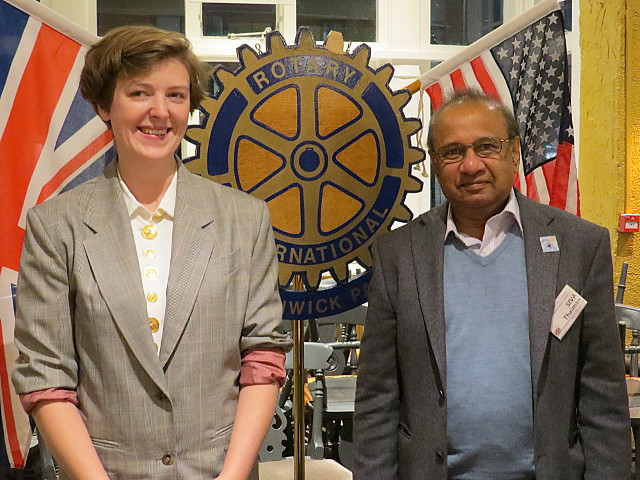 Our speaker on Wednesday 20 November was Mali Clements of the organisation Koestler Arts.  Before Mali addressed the Club, with President Elect Siva in the chair, we heard about the celebration of the Barnet Club's 90th anniversary, about a Premium Bond win, and the results of our collection at Sainsbury's and the Club's Quiz Night.  We decided to provide raffle prizes for our Interact Club's Disco and we discussed support for a debating club in Harlesden.  We also discussed the project to replace our Christmas Float with a Gazebo.
It was then time for Mali to speak about Koestler Arts, an organisation encourage artistic endeavours for those serving time in prison, detained in secure hospitals, immigration holding centres and children's homes.  Whilst the emphasis is on UK establishments, they do have links to Prisoners Abroad.  The purpose is to use art to help develop a more positive approach to art.
Their key activity leads towards a certificate of participation, and an art show for two months in the South Bank Centre.  Recent figures recorded 7,160 entries from 3,768 entrants, leading to certificates and 2,176 awards varying from £20 to £100.  52 different forms of art were received, from 290 establishments, and the prizes totalled £30,000.  All the works of art are evaluated by volunteers, and each entry gets a written response from a volunteers.  Once the numbers are manageable, a famous guest becomes involved, for example Grayson Perry, Louis Theroux, Benjamin Zephaniah.
Mali showed us pictures of many examples of entries, including a steam train made of matchsticks, paintings made with instant coffee and drawings made with biro.  As much as the works of art themselves, the choice of materials available to the internees proved a major challenge to be overcome.  Writers and photographers had it easier!  Koestler Arts was founded by Arthur Koestler CBE in 1962 with the aim of 'unlocking the talent inside'.  A really inspiring talk about a caring organisation that makes a real difference.