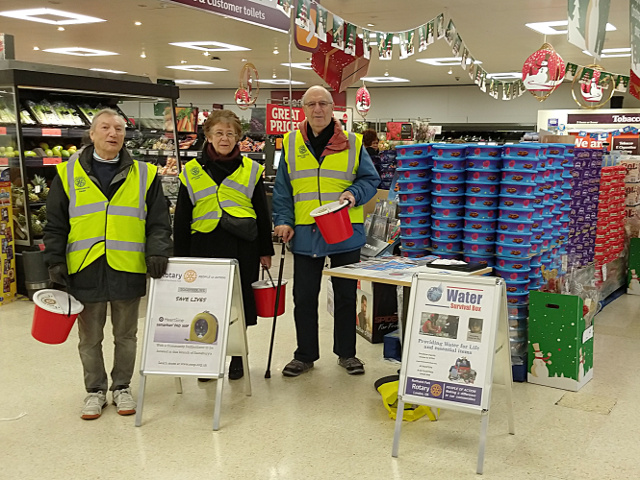 On Friday 15 November and Saturday 16 November, the Club was given permission to collect funds in our local Sainsbury's for a Community Defibrillator and for Disaster Aid equipment.
The defibrillator will be an important local asset for use by members of the local community, and it is definitely needed as shown by several apps indicating the location of these important pieces of equipment.  They are easy to use provided you follow the instructions shouted out by the box itself.  With Sainsbury's store open every day of the week, normally from early in the morning to late at night, this will be an excellent location.
With all the flooding reported in recent months from hurricanes and cyclones, let alone the terrible struggles being experienced in South Yorkshire and the West Country in the past week or so, those organisations that have stock-piled the essential aid equipment have seen their stocks run down.
The Club will be using a portion of the funds raised to apply for a Rotary Grant for the defibrillator, and the remainder will be used to fund the replenishment of the disaster equipment used in the recent past.
The Club thanks the Management and Staff at Sainsbury's for their helpful and friendly welcome and support during the two days, and thanks the customers using the store and donating funds for their wonderful generosity.