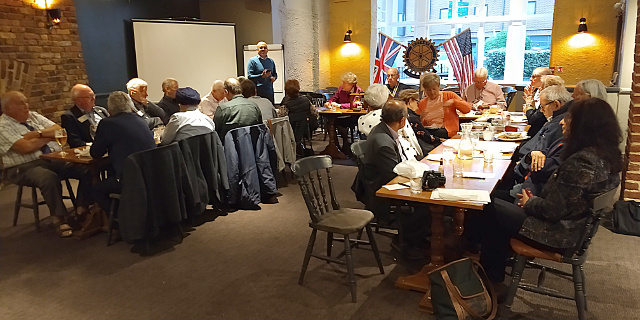 Our meeting on 12 June 2019 combined reports on the Kids Out Day excursion to the Paradise Wildlife Park in Broxbourne with the second part of our Annual General Meeting.  Very nearly the entire Club was present with just two members on Leave of Absence owing to ill health.
With detailed reports on our Community Projects, our International Projects, and the work with the Rotary Foundation, we were surprised with just how much had been achieved.  But that was followed by even more achievements on Youth, Youth Exchange, and Fundraising.  We also heard about the work of the Club Strategy Group and the District Sports events.
The Club's Trust Fund's Treasurer presented a report and launched a discussion into the strategy the fund will adopt in the coming year.  The treasurer of the Club's General Fund also reported with details on the Club's operating and service monies.
The Ordinary Members of Club Council next year will be Ritu, Doug, Helen, Jo, Mark and John E.  The District Representatives will be Rachelle and Siva with substitutes Ritu and John E.
President Mike thanked all the members of the Club for their support and for all that the Club had achieved in the past 12 months.  The Club Council will be working on the lack of a President Nominee in the coming weeks.