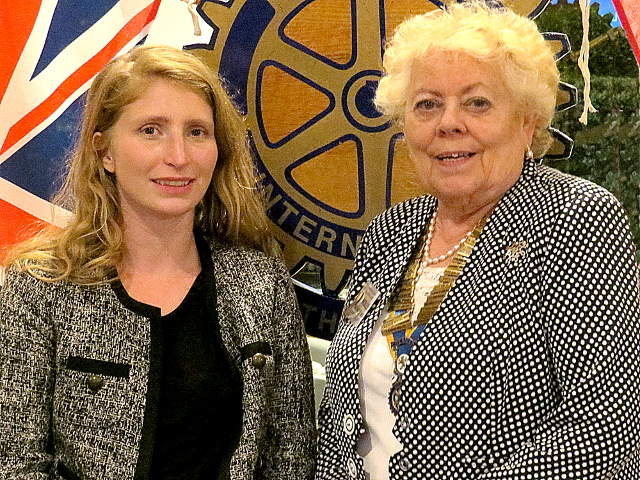 Our meeting on 11 October 2017 was a mixture of meeting our Global Grant Scholar, Lauren (above) and working on our business as a Rotary Club.
Business came first in the evening, and we welcomed visitors from Dulwich, Peckham & Crystal Palace, and also Edgware & Stanmore.  We also had two guests who were looking us over!  We had reports on our progress with the plastic bottle tops project – 35 large bags were delivered – and we had an update on the fundraising efforts of our member Pankaj, who sets off to walk part of the Great Wall of China later this month.  We then heard about the many activities Club members had been involved in since the last meeting, including a joint project with the Commonwealth Secretariat and Rotary in London.
We had a report on the imminent North London Rotary Disability Games, and the Club has decided to support a Dementia Cafe and Dementia Club being set up by Edgware & Stanmore Club.
It was then Lauren's turn to speak! We heard how she had moved from home in Connecticut aged 17, and studied Economics in New York. Whilst studying, she had volunteered with a group helping disadvantaged children who had ambition but had missed out on their basic education.  Lauren realised that she enjoyed developing economically sound social enterprises that helped people in need, and set off to find more opportunities to do just that.
Her journey started in Singapore, and took her to the Himalayas, Nepal, Indonesia, Laos and Hong Kong; she was actively involved in helping people everywhere she went.  She went to Peru where she worked on a Clean Water Project before working on a social enterprise in Uganda – "Africa Sustainable".  Whilst there, her work resulted in a $1.7m grant which allowed an irrigation system to be developed.  She has also worked in Ghana.  She is now studying Public Administration at the London School of Economics.
A packed audience was enthralled at her achievements, and her many awards and prizes.  The Rotary Club of Northwick Park is proud to have her presence as a Rotary Scholar for this academic year, and will value her input and her experience.  Well done Lauren!