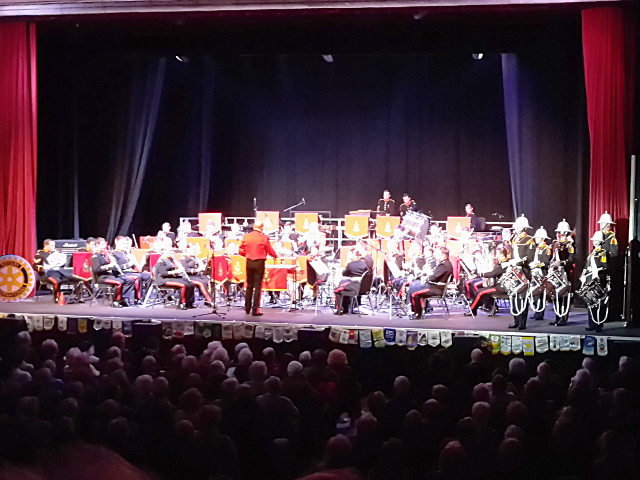 The Club was represented at the Royal Marine Band Concert in Alban Arena, St Albans.
The concert is organised by the Rotary Clubs of Radlett, St Albans and St Albans Verulamium, and the concert on Friday 24 January was the 31st of these concerts. The auditorium was completely sold out, for the seventh consecutive year.
The quality of the music produced by the Band and Corps of Drums of Her Majesty's Royal Marines Portsmouth (know as The Royal Band) was truly outstanding. We were also entertained enormously by The Big Band section of the band. Musically, the performers covered everything from the classics through Glen Miller to "Queen".
Under the direction of Captain Daryl Powell, and Warrant Officer First Class Ivan Hutchinson (Big Band), the musicians moved their audience with stirring national tunes, precision drumming, bugling, and more than one tear was seen in the audience during "Abide with me" and "Sunset".
The concert raised funds for Transaid (a joint venture between Save the Children, and The Chartered Institute of Logistics and Transport), The Daylight Club in Harpenden, and the St Albans and Hertsmere Women's Refuge.
Next year, the concert will be on Friday 29th January 2016, so make a note in your diary now.