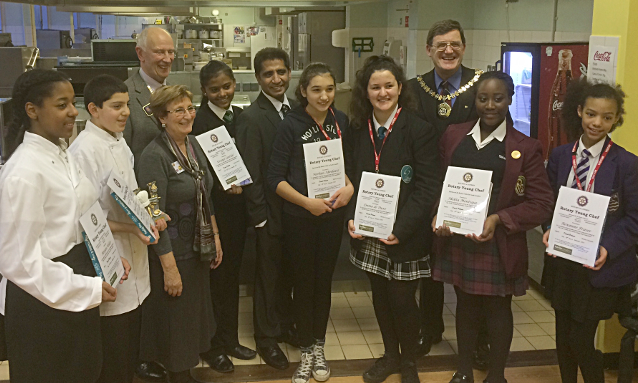 On Friday, 30th January 2015 six competitors from schools in the North West and North areas of London competed in the North and North West London finals of the Rotary Young Chef competition at the Barnet & Southgate College of Further Education Catering Department. The contestants had qualified for this Semi-Final by winning heats in their own schools.
The schools competing in the North West London Semi-Final were Nower Hill High School, Christ's College Finchley, The Compton School and Totteridge Academy. The schools competing in the North London Semi-Final were East Barnet School and St. Anne's Catholic High School.
The competitors were asked to prepared a main course and a dessert for two people and had a budget of £10 for the meal.
The winner from the North West London area was a student from Christ's College Finchley with a delicious dish of Cypriot chicken with spinach, rice and asparagus followed by a blackberry cheesecake.
The winner from the North London area was a student from East Barnet School with a delicious dish of chicken in a white sauce with courgettes, spring onions and handmade gnocchi, followed by a chocolate orange cheesecake.
The Mayor of Barnet Cllr. Hugh Rayner together with the Deputy Mayor of Harrow Cllr. Khrishna Suresh and the Deputy Mayoress of Harrow Cllr. Sasikala Suresh attended the event supported by the District Governor for London, David Palmer.
The winners and runners-up will go on to compete in the London-wide District Finals to be held next Saturday, 7th February at Redbridge College. If successful there, they will go on to a Regional Final, and possibly to the final for all Great Britain and Ireland.
Not only can youngsters cook up a feast, they do cook and they get enormous enjoyment from this Rotary inspired competition.