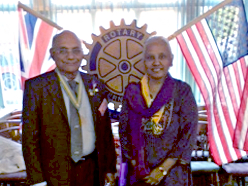 On Wednesday 06 June 2015, we had the meeting at which the programme starting on 01 July 2015 was announced.
In the chair for the programme was incoming Club President Ritu, photographed above with our Assistant Governor Alok.
Youth Services: Our programme concentrating on Youth Competitions will continue, and we hope to add entries for Young Artist. We will also watch the development of any new competitions. We would like to start one of the Rotary Clubs for Primary Schools (RotaKids) or one of the Rotary Clubs for Secondary Schools (Interact).
Rotary Foundation: An increase in Sustaining Members is hoped for, with repeats of the Bagel Brunch, the World's Greatest Meal, Purple Crocusses, and Christmas Cards. The Global Scholar is likely to be rested for a year, although a Peace Scholar Candidate is possible. A grant for a project is possible, so the Memorandum of Understanding will be signed.
Community Service: Support will concentrate on Kids Out, School Dictionaries, the North London Disability Games, and Rotary Health Day.
International Service: Support for Water Aid, and Mosquito Bed-nets will continue, as will support for Mary's Meals (now feeding more than 1 million children a day). A plan for 2 Shelterboxes is included, and support for Vision Aid Overseas and Felsted Aid will continue. The programme includes a Fundraising lunch, and contact with our friends in Sacile Centenario in Italy.
Ritu added her own plans which include a less formal meeting (no top table, and less use of the Bell!), but the Sergeant at Arms will continue to ensure we all behave!! Membership is getting a new approach based on the experiences of others. Two charities have been selected – Kids Can Achieve and Harrow Carers Youth Support – as well as other Rotary supported charities. There will also be a full entertainment programme and the quiz supper will be repeated again.
A busy year awaits us all!