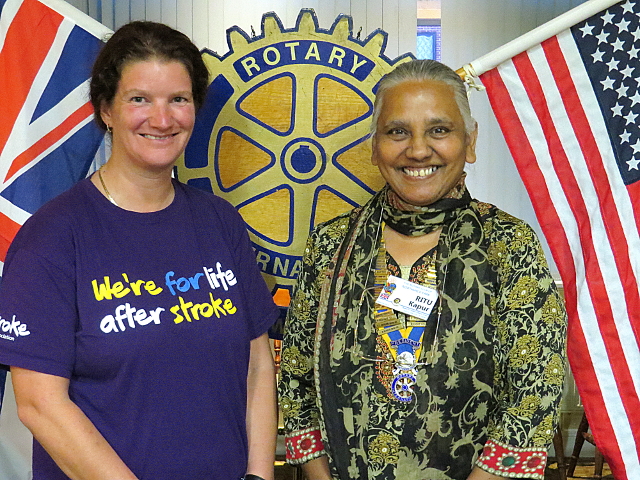 Our speaker on Wednesday 26 August 2015 was Ruth Dunkin of the Stroke Association, an organisation with which our Rotary Club has had a long and fruitful association.
Ruth has a distinguished history in the charity sector, and came fully armed with facts and figures. Some of the facts were scary – it is estimated that there are more than 17,000 centenarians today, but that figure is set to rise to 500,000.  The tendancy for older people to experience strokes means attention will be needed as the population ages. On average, the £295 spent per patient per year researching cancers looks very grand when compared to the £22 per patient per year researching stroke.
There was the prospect of great things however.  50% of the 170,000 strokes per year in the UK are deemed to be preventable. The prospect also of a correlation between stroke and high Blood Pressure – 52% of strokes are associated with high blood pressure – holds promise.  A change of life style to reduce blood pressure is therefore a relatively low-cost, high pay-back strategy to pursue.
Those who suffer strokes need immediate medical attention. An MRI scan can determine if the stroke is associated with a blood clot (85%) or a brain bleed (15%).  Drugs can tackle the clot leading to a quick recovery, but the same drugs cannot be used where there is a brain bleed.  Members of the Club were taught the importance of FAST once again, and the importance of getting the patient in an ambulance without delay if any of the elements of Face, Arms, or Speech are not right.
Well done Ruth – a difficult subject tackled with enthusiasm and professionalism!