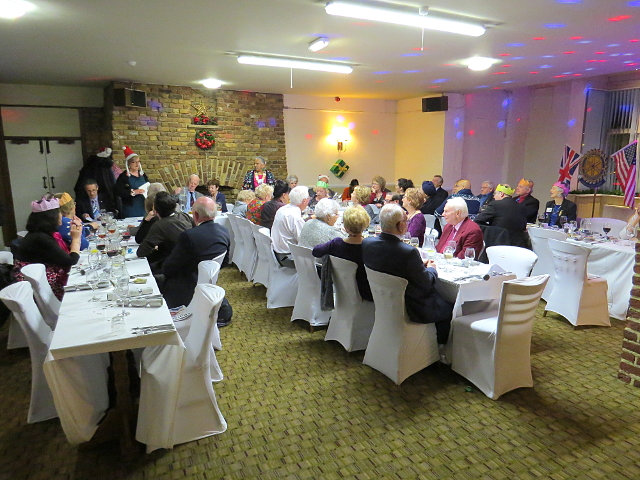 Our meeting on Wednesday 16 December 2015 was our annual Christmas Dinner with our Partners.  There was no real business on the evening (apart from a last minute shuffle on our Christmas Street Collection Roster) and the emphasis was on fun.
With a series of quizzes, a crossword, and a puzzle in Pounds, Shillings and Pence which left some of our younger members feeling challenged, there was plenty to do.  There was a prize for the most festively dressed Rotarian and a similar prize for the best dressed couple.  There was a "Radio Pantomime" and a rendition of the traditional song, The Twelve Days of Christmas.
Our Mistress of Ceremonies was "Heidi from Austria", our own Ros Morris (below), who clearly missed her vocation with her control of the Fifth Form Rowdies amongst us.  With us on the evening were Laura and Mihai, our former Youth Exchange Programme students, and we also said a sad 'Farewell' to our food server Alex, who is moving on to other things.