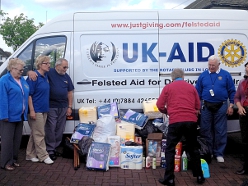 A group of Rotarians from the Rotary Club of Northwick Park gave up their Saturday morning to help the Revival Centre in the Ukraine.
Members of the Club had collected a van load of aid, some of which can be seen in the picture,  based on the list advertised by the UK charity Felsted Aid – which also operates under the name UK-AID. The van duly turned up at the home of one of the Club members, and a couple of hours were spent getting all the items on board.
The van was bought by the Rotary Clubs in London in 2012, and makes between 3 and 4 trips to the Ukraine each year to support the Revival Centre in Chernihiv (pronounced Chernigiv).
The Revival Centre does not receive funding from their government for items like sanitary wear, toiletries, disposable nappies, toilet rolls, syringes, bandages, cotton wool, disinfectant, washing powder, toothpaste, toothbrushes and soap. If you would like to donate items like these, please contact webmaster[at]rcnp[dot]org[dot]uk to arrange a drop off in North West London.