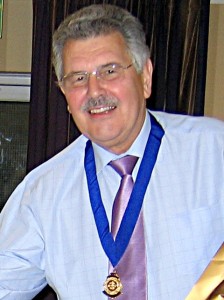 Members of the Club, past and present, turned out in force on a really cold and damp last day of January 2014 to say farewell to a Founder Member of the Rotary Club of Northwick Park, David Hooper.
David had joined the Club in 1978, and had served in a large number of jobs during his years of service, culminating in the job of Club President in 1999-2000.
Many of the members of the Club recollect his leadership of the Club Revels  at Eastbourne, when the Club's own Sydney Parker was District Governor, performing "Master of the House". Others will remember his activities as the Club's Sergeant at Arms, extracting small fines for minor misdemeanors in such an entertaining way that the fined member would be laughing with hysterics. He also proved a witty and informative editor of The Hub, the Club Bulletin, for many years.
Others will remember a member with  accomplished artistic skills, sketching members of the Club and visiting speakers with a sharp eye and a skillful hand. Some will recall his stories of his adventures overseas whilst completing his national service, others will remember the jokes that he insisted on telling!
David always belittled his leadership skills, describing himself as a "simple foot soldier" in Rotary. But David always volunteered for every opportunity, including doing Christmas collections outside supermarkets, bringing his own stool, knowing that he could not stand for a shift of duty. Sadly we will not enjoy his good company at our meetings any more as he has passed on to 'higher service', but our loss will certainly be their gain.
Rotarian David John Hooper, Paul Harris Fellow: 1937 – 2014