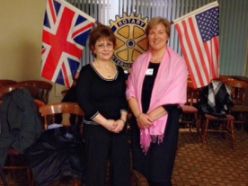 Our speaker on 20 November was (Mrs) Jo Poole who has been part of the Met police for about 20 years. She spoke about her current work as part of project Trident. This is a London wide project, based at New Scotland yard, which targets street
gangs.
Three different areas are focused on each 3 months. They concentrate on housing estates, schools, high streets, shopping malls etc. Street gangs are mainly males from very poor backgrounds, often with only one parent. Lack of parenting attracts them to gangs, which give them a sense of identity and belonging. Ages range from nine to twenty five. There are estimated to be
about 5,000 younths in over 250 gangs in London.
Jo gave many statistics, including those on assaults and murders. Gun crime has lessened, but knife crime is up. It is mainly gang on gang attacks.
Gangs are also often involved in drugs. However the borough of Harrow is one of safest areas to be. We were all pleased to hear that!