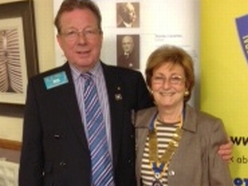 On Wednesday 20th February Rtn Mac Purcell from Paddington Rotary Club was our speaker. He is a History Graduate so the subject of The Rotary Global History Fellowship was right up his street.
He brought to our notice some Rotarians from the past who have made a remarkable contribution to our Organisation in general and in some cases to our lives in particular.
Dr Guttman, who founded what we know now as The Para-Olympic  Games was a member of the Rotary Club of  Aylesbury.
The White Stick for aiding blind people was invented by a Rotarian from West Ham Club and, of course, Stanley Leverton from the London Club who was instrumental in the London District becoming what it is now.
Mac is enthusiastic about his subject and answered many questions and he suggested that we should look on the Web Site for more fascinating facts.