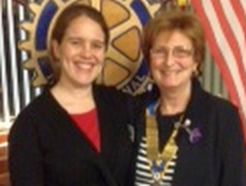 On 20th March, our Global Scholar, Emily Gordon, revisited our Club to entertain us with the presentation that all Rotary scholars have to prepare for their host Club. Emily is our first Global Scholar by which the former Ambassadorial Scholars are now known but the standard this year was as high as ever and I must remember to ask someone what the difference is supposed to be. Of course many of us already had an opportunity to meet and talk with Emily during previous visits to our meetings and especially when she was our guest at the last District Conference. 
Emily was sponsored by the Rotary Club of Oakland in California, located on the side of the Bay opposite to San Francisco. Its name is derived from its former oak woodlands. It has a population of about 400,000 and is largely an industrial area, with port-related activities and the motor industry predominating. Emily was born and raised in New York city, studied in the Twin Cities (= Saint Paul and Minneapolis in Minnesota) but nowadays lives and works in Oakland with her husband, who is of North African origin. She went to New York for a few days at Christmas to visit her mother, a former teacher, and her husband who also came there. Emily's ancestors were of Eastern European and Russian origin.
Before being awarded her scholarship to read for her masters degree at the London School of Economics & Political Science, Emily also studied in Guatemala. She has worked professionally in Oakland on social issues and her thesis at the LSE will be on the subject of the UK Green Deal and the reduction in the use of energy. Her declared goals as a Global Scholar are to share her studies with other Scholars and to take back her lessons and experiences gained over here. Emily thanked Rotary for the opportunity of her London studies and to Rotarians for making this for her a home away from home.