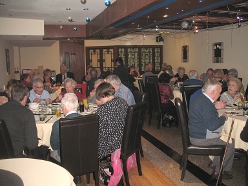 On Wednesday 2 January 2013, the Club kept to tradition by missing its normal first meeting in January and going to a local Chinese Restaurant.
This year we went to the ChiKaYan restaurant in Hatch End. With partners, there were well over 50 attending the dinner, and all were agreed that the choice of restaurant was a good one, especially as they were able to cater for a wide range of tastes, from spicy to bland, sweet to sour, and so on.
We were all delighted to have Bob and Ian with us once again, as well as Oliver from the new Satellite Club of Northwick Park. President Sandy presented a "Good Luck" card to Dick for his trip with June to the Rotary International Assembly in San Diego where he will receive his training before become District Governor for Rotary in London on 1st July 2013.