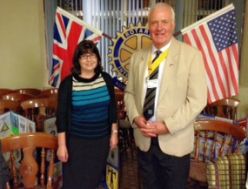 Sarah Brook was our guest speaker this evening, a volunteer for Harrow Foodbank.  She told us of the origins of the parent Charity, Trussell Trust, and although it started as a Christian charity in Salisbury its services had always been available to everyone.   It actively seeks engagement from all faiths and no faith and, to be an inclusive and diverse project that is sustainable with the Harrow Foodbank only supporting people living in Harrow.
Back in November 2012 it was just an idea.  The first meeting of the steering group was in February 2013, which our own late David Parker attended, and in June the Foodbank opened.
Relationships have been established with all the major supermarket groups where customers are encouraged to buy something extra to donate and as a club we helped with a collection at Tesco in Harrow back in July.  The food is then sorted and packed ready for storage.  Any food close to the 'Best before date' or externally damaged is passed on.   Harrow has two distribution centres which open in two hour slots on Tuesday, Wednesday and Friday.
Sarah explained that approved partners, GPs, Social workers, Citizens Advice Bureau staff and others, assessed people and issued vouchers which were exchanged for the food parcels containing sufficient food for three days.  The recipients were also invited to a chat over a cup of tea, offered a sympathetic ear by specially trained counsellors who can give advice and help and so far 106 adults and 77 children had been supplied with emergency food.   Each family can have no more than three vouchers per year.  
At the moment they have sufficient food but, like all charities, they need money and volunteers, especially more voucher issuing partners to ensure all those in extreme need are helped.  www.harrow foodbank.org.uk for more information.