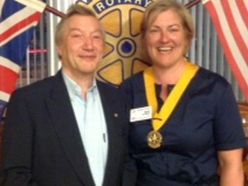 On 26 June, our very own Eric Silver was the speaker for the night.  But this time he was not speaking regarding his role as previous mayor of Harrow, but in telling the club about his professional life in the pharmaceutical industry.
Eric described to us the vastness and extent of pharmaceutical services; many of which the everyday person takes for granted.
Eric has a pharmacy in the Harrow area and many of his customers and patients have been coming to the pharmacy for several years and it was clear from Eric's talk as to the critical and expert advisory service that pharmacies provide.
Like many areas of public service, there are many changes afoot with health services and Eric expects that this will also be in respect of pharmacies.
It is always interesting to find out about other areas of club members' lives, whether this is in respect of their professional lives or interests and hobbies, and Eric's is certainly an interesting one.