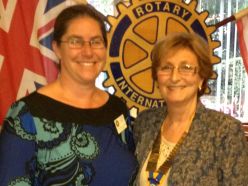 On Wednesday 18 July a Rotarian from RC Cataraqui-Kingston, Canada came to speak to the club. Francine Allard has been a visitor to the club on many occasions and it was a pleasure to hear more about her and her career in the Navy.
Francine is the daughter of a sailor and she joined the Navy on 25 April 1991, at the age of 19. Now, 21 years later, she works with NATO in the Naval Cooperation and Guidance for Shipping Centre, Northwood, which protects ships.
Francine gave us a detailed and interesting slide presentation showing us how so many pirates are operating at sea and it's a full time job trying to prevent them from carrying out their dastardly deeds. Operation Ocean Shield patrols the Indian Ocean and the straits of Hormuz where boats are continually being stopped and prevented from committing piracy. Their aim is to Deter, Disrupt & Protect. From the things Francine told us, they're doing a great job.
Great to have you with us. Keep it up!