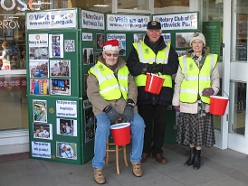 Over the weekend of 8 – 9 December 2012 our club collected for charity at Waitrose in Harrow. We had an amazingly positive
response from the public, many people stopping to talk and we even met up with a former Rotaractor from Uttara Pradesh living in Harrow.
Our sincere thanks" to Waitrose and their customers for their wonderful support.