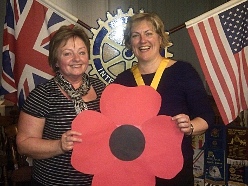 Our guest speaker on 14.November was Rita Gresty, who is a member of Northwick Park Inner Wheel and is the manager of the Mayoral Office of the L.B of Harrow.

Rita spoke about this year's Remembrance Day Parade and how they start preparing soon after the previous one is finished. She brought a montage of photos of this year's parade showing all all the different armed forces who took part together with cadets, councillors V.I.Ps and children who won a contest to write a poem about remembrance and conflict. Over a 100 children from many schools in Harrow entered the competition. The present Mayor was prominently shown in the display.
Rita started as manager, when Eric Silver became Mayor in 2209/2010.

Each year the parade gets bigger and better.This year over 500 were marching. Many wreathes were laid by many groups including the one laid on behalf of Rotary.