At our meeting on 27 June 2012, President Pushpinder gave his final address to the club at the end of a successful year. Pushi recounted the many projects and fundraising activities which took place during the year. After his address, Pushi presented awards as follows: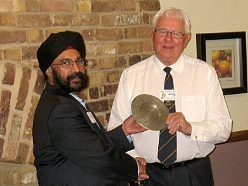 The first was to Doug Try who received the David Cooke Fellowship Plate.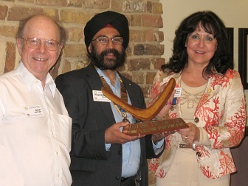 Next was to Helen & Dick who received the Francis Hickman-Smith Boomerang for International Service.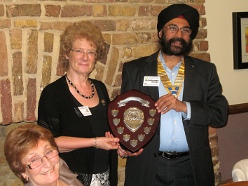 Di King was awarded the Service Above Self Shield.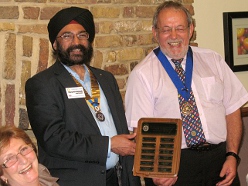 Finally Sydney received the Ian Munro Rotarian of The Year Plaque.
June Nathan was honoured with a Paul Harris Sapphire Pin for her five years service to the club as Secretary. Pushi then inducted Sandy as the new President of our club.
Sandy's first duty as club President was to present Pushpinder with his Past President's Jewel. She then inducted Ros Morris as President Elect.
Jane Altman was then inducted as Vice President and Lucile Parker as Secretary.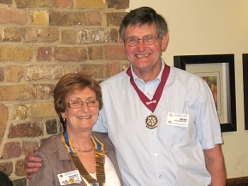 Mike Billington then received his collar as club Treasurer. The meeting was exceptionally well attended with support from our scholar Dennis and his wife Terissa, local clubs and members of the Inner Wheel club of Northwick Park, including their President, June Nathan. The Inner Wheel club of Ealing was also represented.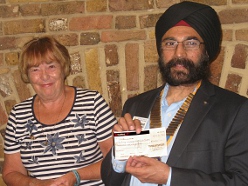 Rosemary Cone, on behalf of the Inner Wheel club of Northwick Park, presented a cheque for £250 for our club's Felsted Aid project.