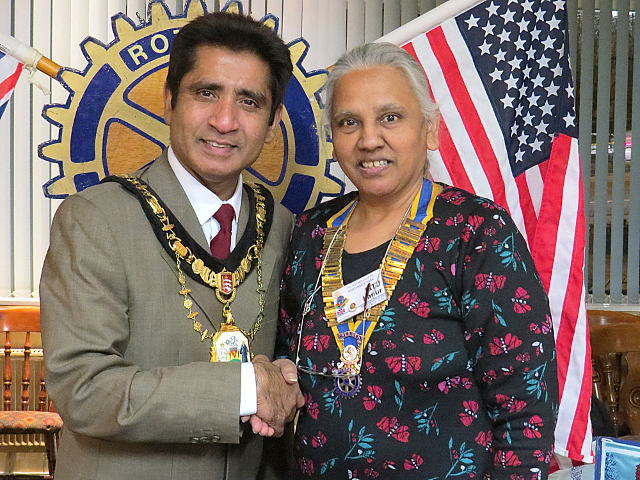 Our speaker on Wednesday 16 March 2016 was the Worshipful, the Mayor of the London Borough of Harrow, Councillor Krishna Suresh, who attended our Club with the Mayoress, Councillor Sasi Suresh.  With us on the evening was Rotarian Joy Ogbechi of the Rotary Club of Abuja Metro in Nigeria.
Mayor Suresh was introduced by President Ritu. He has interests in a large number of organisations in our community dealing with politics, education, sport and the Arts. He has also had a career as a film star – hence the title of this item.  He said he had always worked on the maxim, "As you get older you become younger in your outlook".  He knew a surprising amount about our Club and our work in the community, both here in North West London, and in the world at large.  He described the Club as "Doing a World of Good", an interesting variation on the motto of the Rotary Foundation ("Doing good in the world").
He called on the Club to share its knowledge and its ethos with young people in the Borough of Harrow, so that the good work could continue and grow.  He described how Rotary "Was in it for nothing – just recognition" and that message needs to get through to young people who always ask "What is in it for me?"  He talked also about his plans for his year as mayor, and how they had gone now that only two months remained.  Predictably, car parking charges was the issue that produced most questions.
We do not often get visits from film stars, and many members will now be trying to track down the mayor's latest appearance in "Tamil MI7"!