ROTARY INTERNATIONAL
Rotary International is an organisation of business and professional leaders united worldwide, who provide humanitarian service, encourage high ethical standards in all vocations, and help build goodwill and peace in the world.  Rotary International's motto is "Service above Self".
A SHORT MESSAGE FROM OUR WORLD PRESIDENT Ian H S Riseley from Australia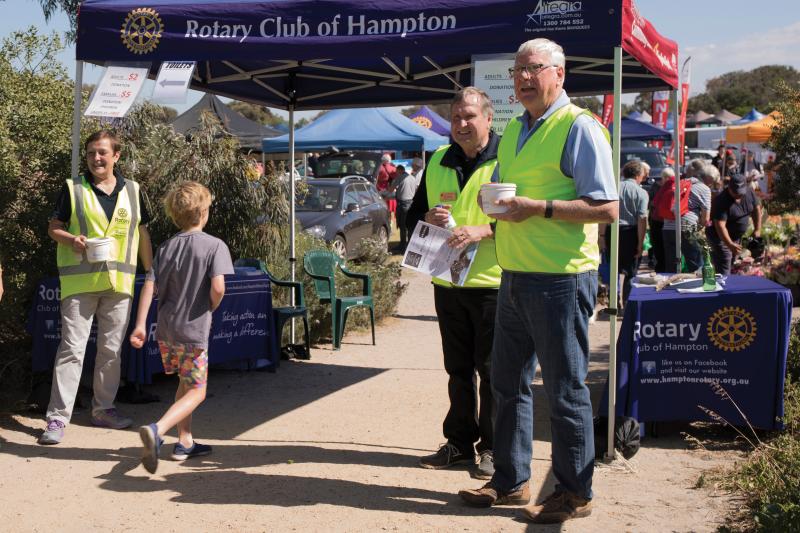 "Traditionally, I pay for the coffee!!" Ian H.S. Riseley makes this pronouncement in such a serious tone that you believe it. Until, that is, his friend Kevin Harrison guffaws. Just who does pay for the coffee is never resolved, but the good-natured joking sets the mood for a walk along the banks of the Patterson River in the suburbs of Melbourne, Australia.
For the past five years, these walks have been a twice-weekly routine for a small group of Rotarian friends. It's a way to get "some much-needed exercise, coupled with the opportunity for us to resolve the problems of the world," says Harrison.
Whoever can make it on a given day comes along for the chance to bounce ideas off the others. And everyone always wants to know what Ian thinks. "He'll listen to an idea," says Harrison, "and over a period of five or six walks, we've got ourselves a project."
Riseley, right, and Bob Richards, second from right, accept donations from visitors to the Bayside Farmers Market, sponsored by the Rotary clubs of Hampton and Sandringham, where RI President Ian is a member. The market features produce, meat, flowers, and gourmet foods from local farmers and artisanal producers.
WHAT IS ROTARY INTERNATIONAL'S OBJECTIVE?
The object of Rotary is to encourage and foster the ideal of service as a basis of worthy enterprise and, in particular, to encourage and foster:
The development of acquaintance as an opportunity for service
High ethical standards in business and professions the recognition of the worthiness of all useful occupations and the dignifying by each Rotarian of their occupation as an opportunity to serve society
The application of the ideal of service by every Rotarian to their personal, business, and community life
The advancement of international understanding, goodwill and peace through a world fellowship of business and professional persons united in the ideal of service.
Click Here to visit Rotary International Headquarters in the USA
Click Here to visit Rotary International in Great Britain and Ireland Headquarters
Click Here to visit Rotary District 1130 Headquarters, Greater London
Copyright 2018 The Rotary Club of Northwick Park.
All Registered Trademarks are acknowledged.
Please contact our Webmaster with questions or comments.