ROTARY INTERNATIONAL
Rotary International is an organisation of business and professional leaders united worldwide, who provide humanitarian service, encourage high ethical standards in all vocations, and help build goodwill and peace in the world.  Rotary International's motto is "Service above Self".
THE BACKGROUND OF OUR WORLD PRESIDENT Mark Daniel Maloney from Alabama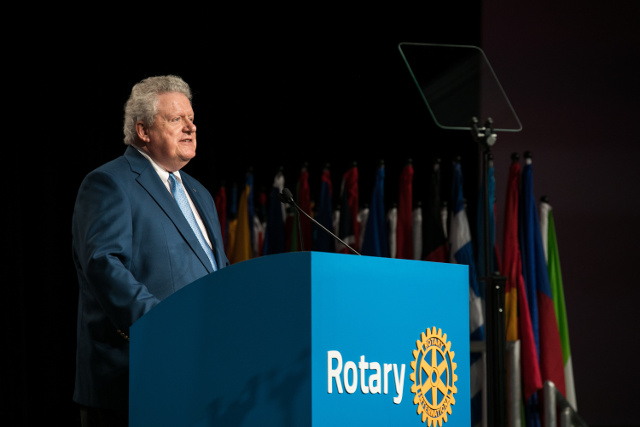 Mark Daniel Maloney is a principal in the law firm of Blackburn, Maloney, and Schuppert LLC, with a focus on taxation, estate planning, and agricultural law. He represents large farming operations in the Southeastern and Midwestern United States, and has chaired the American Bar Association's Committee on Agriculture in the section of taxation. He is a member of the American Bar Association, Alabama State Bar Association, and the Alabama Law Institute.
He has been active in Decatur's religious community, chairing his church's finance council and a local Catholic school board. He has also served as president of the Community Foundation of Greater Decatur, chair of Morgan County Meals on Wheels, and director of the United Way of Morgan County and the Decatur-Morgan County Chamber of Commerce.
A Rotarian since 1980, Maloney has served as an RI director; Foundation trustee and vice chair; and aide to 2003-04 RI President Jonathan Majiyagbe. He also has participated in the Council on Legislation as chair, vice chair, parliamentarian, and trainer. He was an adviser to the 2004 Osaka Convention Committee and chaired the 2014 Sydney Convention Committee.
Prior to serving as a district governor, Maloney led a Group Study Exchange to Nigeria.
He also served as Future Vision Committee vice chair; Foundation training institute moderator; Foundation permanent fund national adviser; member of the Peace Centers Committee; and adviser to the Foundation's Water, Sanitation, and Hygiene in Schools Target Challenge Committee.
WHAT IS ROTARY INTERNATIONAL'S OBJECTIVE?
The object of Rotary is to encourage and foster the ideal of service as a basis of worthy enterprise and, in particular, to encourage and foster:
The development of acquaintance as an opportunity for service
High ethical standards in business and professions the recognition of the worthiness of all useful occupations and the dignifying by each Rotarian of their occupation as an opportunity to serve society
The application of the ideal of service by every Rotarian to their personal, business, and community life
The advancement of international understanding, goodwill and peace through a world fellowship of business and professional persons united in the ideal of service.
WHAT IS ROTARY'S VISION?
"Together, we see a world where people unite and take action to create lasting change — across the globe, in our communities, and in ourselves."
Click Here to visit Rotary International Headquarters in the USA
Click Here to visit Rotary International in Great Britain and Ireland Headquarters
Click Here to visit Rotary District 1130 Headquarters, Greater London
Copyright 2020 The Rotary Club of Northwick Park.
All Registered Trademarks are acknowledged.
Please contact our Webmaster with questions or comments.